Best Headphones for Online Classes from SIMOLIO
With the rise of remote learning, it is easier and more convenient for students and teachers to communicate with each other at any time,no matter where they are. As we know, an essential part of these online classes is a headphone with microphone. Below we will introduce you to several cost-effective SIMOLIO headphones with a quality mic. These best headphones will make your own voice sound clear and understandable to ensure a successful learning experience.
Model: JH-711/JH-712/JH-714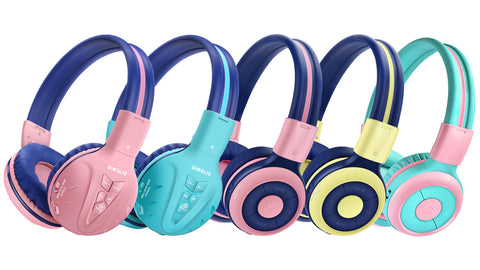 These headphones are one of the best choices for kids to use in some online courses or in the computer lab at school.The built-in microphone provides excellent voice, making it easier for your kids to be heard.The over-ear design isolates outside noise and improves your child's hearing efficiency. With 15 hours of long battery life, you don't need to worry about your child's online lessons being interrupted by charging. What's more, the headphones can be switched to wired mode via a detachable 3.5mm aux cable for a double guarantee. What sets this earphone apart from others is its unique 3-level volume limiter (75dB/85dB/94dB), which protects children's sensitive ears while giving parents peace of mind. The share port allows multiple headphones to connect to one device without the use of splitters.
Model:SM-902/SM-903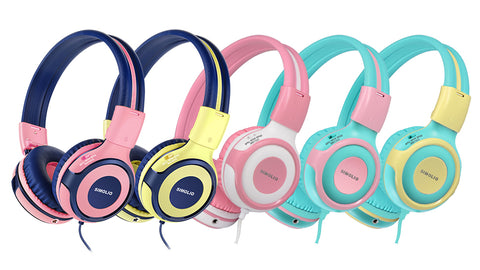 These headphones have in-line microphones for crystal clear calls and online chats. On-ear models are great for listeners who want a decently comfortable fit in a more compact design. They are compatible with all devices that have a 3.5mm stereo output, perfect for kids to use in school computer labs or online lessons. Unique 3-level volume limiter (75dB/85dB/94dB) is another big plus. They also have a share port to allow two or more kids to listen at once.
Model: SM-904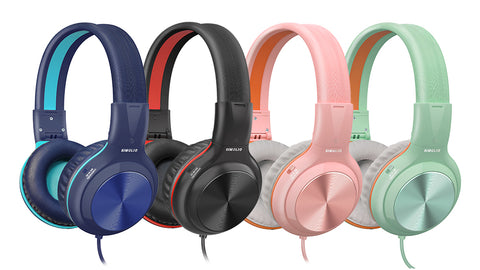 These wired headphones have larger ear cups than the SM-902/SM-903 mentioned above and are more suitable for teenagers or adults. They are compatible with all devices that support 3.5mm stereo output such as PCs, laptops, tablets, phones, etc. In addition to the same excellent in-line microphone, it is equipped with a new 3-level volume limiter (85dB/94dB/104dB), so you can hear clearly even in noisy environments. The headset also features audio sharing, allowing you to enjoy high-quality audio with your friends.
It is noteworthy that the above headphones are also equipped with cloth bags or EVA hard cases, which are very convenient to carry and store.