How to help the elderly or the hearing-impaired hear TV clearly?
Do you or your elderly relatives miss your or their favorite programs because of impaired hearing? Do you often face such a dilemma? Every time, even you turn up the volume of the TV, you still cannot hear the dialogue clearly. Meanwhile people watching TV with you can be triggered by the high volume, which may affect eventually family harmony. Do you still fail to hear the TV clearly even if you are wearing an expensive hearing aid? SIMOLIO 2.4GHz Professional Wireless TV Hearing Aid Series is the best choice for you to help solve the above-mentioned problems.
First of all, to make the listener receive the target sound source in high fidelity from a distance, we adopt 2.4GHz digital wireless audio technology, which will increase the listener's recognition of the target sound source. 2.4GHz refers to the frequency band between 2.400GHz and 2.4835GHz, which is common to the world. Transmitting digital radio signals, 2.4G RF (radio frequency) wireless technology can provide perfect sound quality and achieve long distance transmission. Moreover, the digital radio signal is not electromagnetic wave, so its transmitting power is small and will not harm human health.
Applied with the latest FHSS(Frequency-Hopping Spread Spectrum) technology, the SIMOLIO 2.4GHz wireless TV listening devices transmit signals that effectively avoid interference from other wireless devices at home by hopping among multiple frequencies; moreover, the receiver also follow the frequency automatically; in this way, it maintains a stable and reliable connection between receiving and transmitting, so that you can completely get rid of the hassle caused by repeated pairing like Bluetooth headphones. In addition, compared with common Bluetooth headphones, 2.4GHz RF headset is more suitable for watching TV because it reduces the audio delay to ≦30ms , which is much less than 220ms of a standard Bluetooth headphone or 45ms of aptX low latency; so the lip-sync delay is rare, thus achieving the seamless matching between images and audio. Moreover, 2.4GHz RF transmission supports one-to-multiple connections; one transmitter can support multiple headsets simultaneously, so it is perfect for buddies/ friends to enjoy a movie night. Compared with older infrared transmission technology (with a transmission distance of≦8m), the RF transmission maximizes your range of movement (with the effective distance of 30m). Its signal can pass through the wall and ceiling; therefore, if you still want to listen to your favorite music/ programs while walking around (cooking or working on the lawn and etc.), undoubtedly, the 2.4GHz RF wireless TV headphone/ speaker is your best choice. 
In order to protect hearing-impaired people from strong sound (which can make their hearing ability worse), and help them hear TV dialogue clearly, we have designed the electronic circuit as follows.
For those who cannot hear the TV dialogue clearly, it cannot ultimately solve the problem of clearly hearing TV by simply turning up the TV volume. Through increasing dialogue and decreasing background sound, our dialogue clarity circuitry can highlight the TV dialogue to make the dialogue become easier and clearer.
For people who have different sound frequency sensitiveness, SIMOLIO wireless TV headsets are specially designed with the TONE adjustment function. There are three options of hearing profiles (treble/ normal /bass), so users can customize the tone setting according to their own needs. For the elderly who watch TV, generally, we recommend setting the TONE as Treble in order to compensate for the impaired hearing of the elderly in the Treble and Alto range.
For people whose hearing is seriously damaged, we can provide them with MONO/STEREO option, which can match every audio-visual scene perfectly. You can turn the MONO/STEREO switch on the base to MONO to enjoy clearer TV dialogues. When you don't give priority to dialogue intelligibility, for example, when you just want to immerse in rich tones, you can switch to STEREO.
With the unique balance control, the right/left volume can be adjusted to facilitate the user to correct the imbalance between the left ear hearing and right ear hearing.
We never forget hearing protection while providing TV hearing assistance. Do you have the following experience while using a common headset? When you are enjoying a TV program but an advertisement comes through suddenly, do you nearly bounce off the sofa/ chair due to the loud noise from your headset? Or when you switch the CNN program to the HBO program with the remote control, the TV volume increases suddenly, and do you want to throw away your headset immediately because your eardrum is stimulated? It is very easy to damage the eardrum under these conditions, because the TV station suddenly increases its output level based on different signal modulation intensities, which makes the volume increase. Innovatively applied with the Automatic Signal Control circuit design, SIMOLIO TV assistive listening devices (ALD) can adjust sudden volume changes automatically in order to stabilize the transmitter's output volume and thus protect your hearing effectively.
Some of our SIMOLIO TV hearing aid products are combined with the concept of common hearing aids. In this way, when you want to join in the heated discussion about the plot with your family during TV break, or you only want to listen to the sound in the room, you will not need to take off your headset to replace it with a hearing aid because SIMOLIO wireless TV headphone is designed with a humanized assisting ambient hearing microphone button, which can provide perfect assistance. You can switch your headset to the personal sound amplifier mode by pressing the MIC button, which can pick up and amplify your ambient sound, so you can hear your ambient sound without removing your headset.
SIMOLIO digital wireless devices for smart TV for seniors and hard of hearing not only provides you with impressive Hi-Fi TV sound experience, the TV wireless headphone, with the standby rechargeable battery and convenient charging methods, but also ensures that you will not be interrupted by charging while watching TV programs; with the soft earmuffs , it will make you immerse into very comfortable audio experience for a long time. 
SIMOLIO TV assistive listening products can be divided into 3 main categories, the in-ear headphones, the over-ear headphones and the portable TV speakers. Most of them have the above-mentioned technical features, and some of which have more functions. To learn more, please click on the text and image below.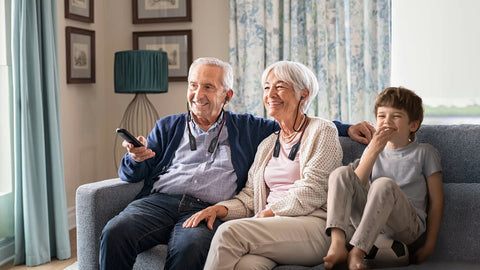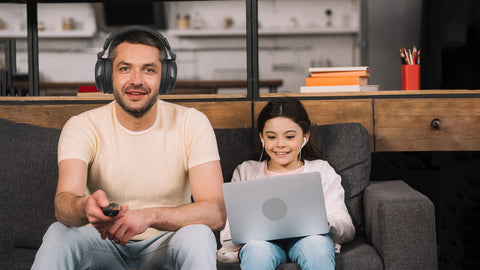 Portable wireless TV speaker series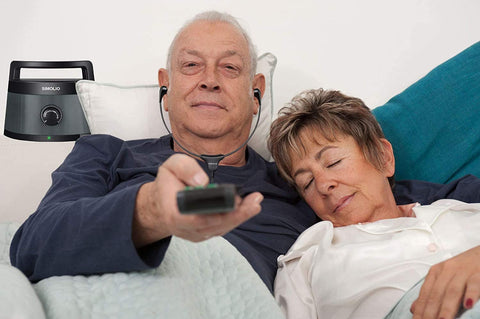 Still not sure which SIMOLIO model is the right one for your TV set? Email support@simolio.com for a quick and efficient solution.