How To Keep Kids Entertained on Long Car Trips?
Imagine such a scene, your family is taking a road trip, driving happily, suddenly, a troublesome noise from backseat shocks you a lot, isn't it annoying? I guess you must turn on the car DVD player then, want your kids to immerse in their favorite cartoons, leaving you a peace, right? While the sound of cartoon disturbs you,  distracting driver's attention, how dangerous! Under this condition, car headphones can resolve this embarrassment
So are you going to spend $100 purchasing a car headphone in a car accessories store? Have you ever thought that at less than a quarter of the price, you can get a set of car headphones that have been ranking No. 1 among car headphones on Amazon—— SIMOLIO infrared car headphones?
SIMOLIO is a professional car DVD headphones manufacturer for more than 20 years, which has developed a variety of styles to meet different needs and stood up to market scrutiny both in price and quality.
What Can You Get from SIMOLIO Car Headphones?
1. Dual Channels
SIMOLIO wireless car headphones adopt 2-channels universal frequency infrared technology (universal IR frequencies: Channel A: L/2.3MHZ, R/2.8MHZ; Channel B: L/3.2MHZ, R/3.8MHZ).
Your daughter wants to watch Disney movies while your son wants to watch Spider-Man?No problem, just set one headphone's channel to A and another's channel to B, and make sure the channel of the headphone is the same as the channel of the DVD you would like to listen to.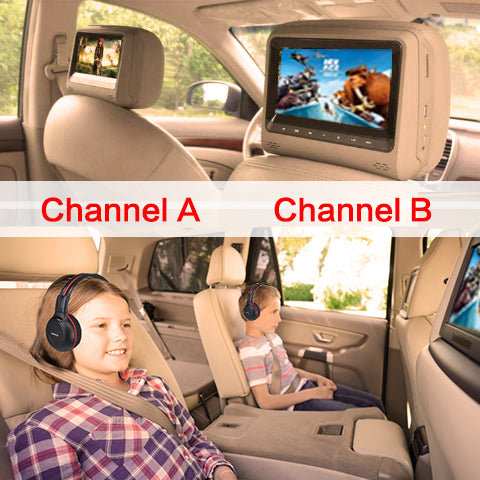 2. Volume Control
The volume control button gives your kids the freedom to adjust the volume with their fingertips.
3. Adjustable, Durable and Comfortable
SIMOLIO wireless infrared headphones have an adjustable and bendable headband that can fit your kid's ears and head well. The "memory stainless steel strips" used for the headband enhances durability to withstand rough play on any occasion. With the super soft ear muffs, your kids can listen to car stereo with headphones on a long trip without experiencing ear pain.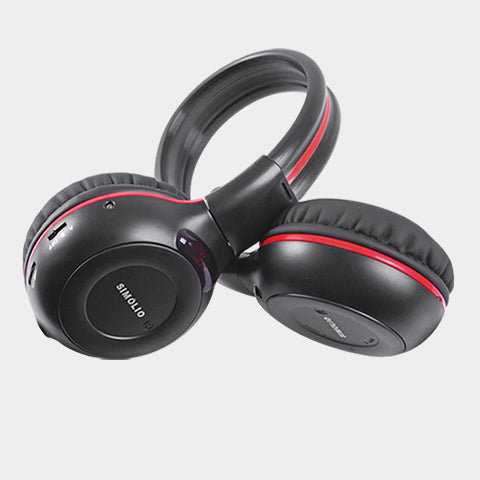 4. Built-in Sharing Port
SIMOLIO IR headphones for car have a built-in sharing port that allows other earbuds/headphones to plug in. If the kids in the third row want to enjoy program without interference, connect their headphones to the headphones of the kids in the second row, then they can enjoy the same movies/music together.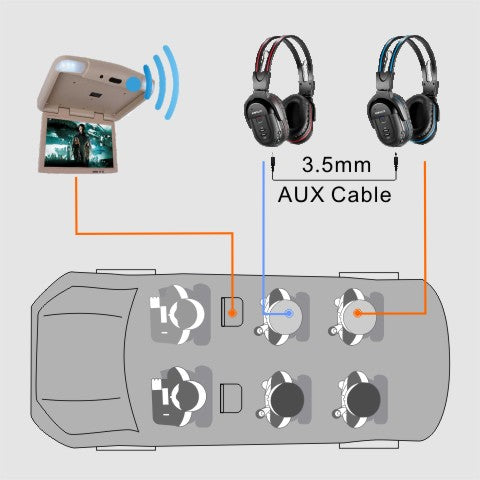 5. Used As a Wired Headphones
SIMOLIO infrared headphones not only can be used in wireless, but also can be used in wired mode. You can plug these headphones into smart phones, Kindle fire, tablets, etc. by supplied 3.5mm AUX cable when batteries run out.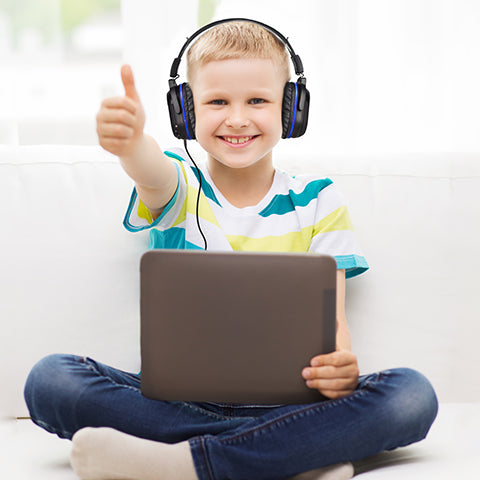 6. Portable and Easy to Store
The foldable design makes it exceptionally easy to carry around. The supplied pouch/EVA case allows safe storage and is compact on-the-go travel when not in use.
7. Automatic Shut-off Function
SIMOLIO car headphones will automatically shut off when no audio signal in about 10 minutes to ensure maximum battery life, which can prevent batteries from draining when left on.
8. Hearing Protection Function
As a parent, you may also worry that too loud sound may cause hearing damage to your kids. Designed with a 3-level volume limiter (75dB for Toddlers, 85dB for Kids, 94dB for Adults), SIMOLIO infrared wireless headphones SM-562 can effectively protect the fragile hearing of your kids.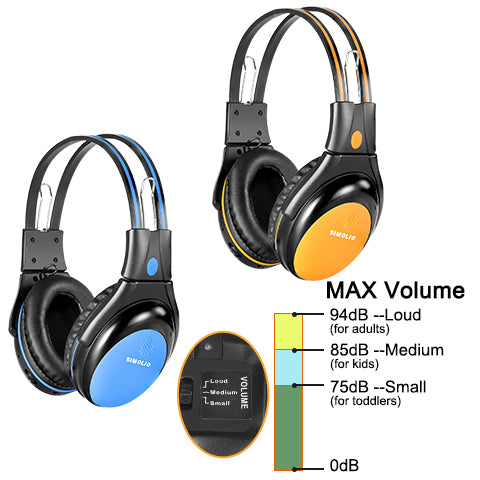 9. Used as a Wireless TV Headphone
SIMOLIO infrared headphones can also be used with SIMOLIO IR transmitter to enjoy late night TV shows without disturbing your family. No pairing, no delay, and no limited on the number of headphones to one transmitter.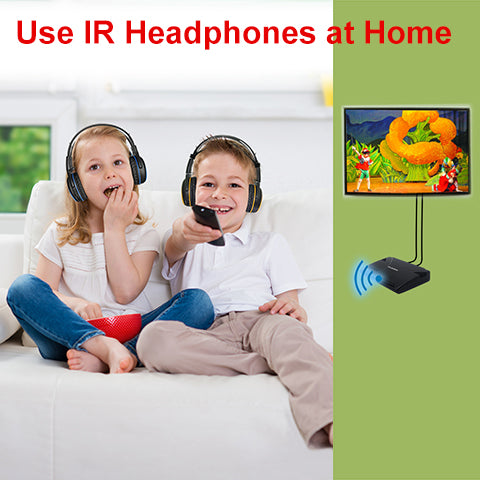 How to Pick the Right Headphones for Your Car?
Before buying car DVD headphones, please check if they are compatible with your car. SIMOLIO wireless car headphones fit all universal frequency car DVD systems. You can refer to the picture below to check. For the car model that is not listed, please contact us or refer to the manual of the DVD system.