How to share audio with multiple headphones?
We recently received an email from a customer asking us an interesting question that is there a way to have his three children listen to a story played from a iPhone through headphones at the same time while on the go?
Today, let's talk about can audio be shared through multiple headphones?
Many people may think of audio splitter. Indeed, using a splitter to allow multiple headphones to share the same audio is an option, but not the best choice. There are some cons of using a audio jack splitter. First, it will cause more spending. Second,  it requires children to sit together which may cause inconvenience. Last but not least, for some audio devices that do not have 3.5mm audio out ports, it is useless.
But SIMOLIO headphones will give you unexpected surprises. They are best headphones for kids to share audio with others. SIMOLIO headphones are designed with 3.5mm audio share port on the left side, which allows headphones to be connected one by one. Therefore children can share audio with multiple headphones at school or home, on travelling or flying. Here SIMOLIO offers two solutions for options.
If your audio device has 3.5mm audio out port, such as computer, tablet,etc, SIMOLIO headphones for kids are fully enough to meet your needs. No need to pay extra for a splitter. Children just need to have another wired headphones plug into the sharing jack on the left side of the headphone to share music and happiness with others, and there is no limit to the number of connections. In other words, children can share audio with 100 headphones or more at the same time. You can choose headphones from followings:
Wired headphones for kids: SM-902, SM-903
Wired headphones for teens: SM-904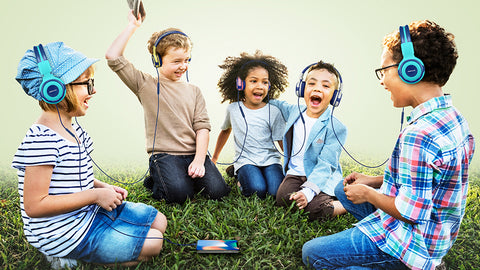 With the removal of the proprietary headphone jack, Apple also eliminated the function that allows users to plug wired headphones to enjoy audio. We can only connect it via Bluetooth. But a single device can only support up to two different Bluetooth headphones connected at the same time.

So for devices without 3.5mm audio out port, how to share audio with two or more headphones? As we mentioned before, SIMOLIO headphones features share port, including kids Bluetooth headphones.

Here are how to share audio from iPhone or iPad to multiple headphones.
1.Pair SIMOLIO Bluetooth headphones with audio device.
2.Plug the wired headphones to the sharing port of the Bluetooth headphones.
3.Connect the wired headphones you want to share one by one via share port.

You can choose kids bluetooth headphones from SM-711, SM-712, SM-714.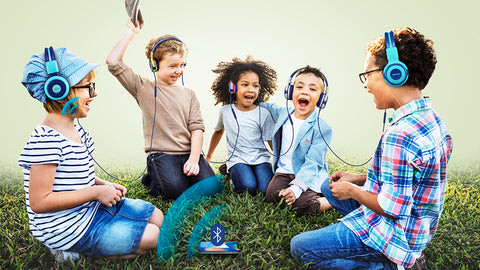 After repeated testing with professional sound measuring instruments, we came to the conclusion. There is no significant difference in the volume and sound quality of the first 5 headphones. But the volume of 6th headphone was reduced by about 5%, and the sound quality is also reduced a bit. When connected to the 11th headset, the volume was reduced by about 10%. So if you are very concerned about volume and sound quality, we recommend that you connect up to 5 headphones.
Got any question? Please feel free to email us at market@simolio.com, we'll get back to you within 24 hours.