Protecting Your Children's Precious Hearing with Simolio Volume Limited Headphones
Do your kids often watch cartoons or play video games on iPads, listen to music on their phones, or take online classes on their computers with headphones on? These are all great ways for kids to gain knowledge, explore the world, and release stress, but at the same time, it can't be ignored that it also means kids and teens spend a lot of time with headphones every day.
Children's ears are vulnerable and sensitive, and we have to beware that prolonged exposure to high volume can cause permanent hearing damage.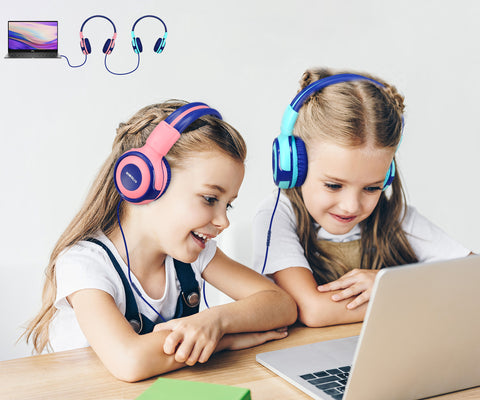 What can you do to protect children's ears?
In addition to talking to your child about the importance of safe listening habits, it's especially important to choose a professional volume-limited kids headphone for them.
Some parents simply purchase the adult headphones for their children, which are either too expensive or made with cheap, uncomfortable materials in uninspired colors. Moreover, there is no volume limit on adult headphones, which means that if you want to protect your child's hearing, you have to monitor the volume of your child's headphones at all times.
The good news is that many parents are now opting for volume-limited headphones for kids. However, many headphones that are marketed for kids, including some well-known brands, which claim to have volume limitation and hearing protection, only have a fixed volume limited to 85dB. These headphones can certainly help, but they fail to take into account that children of different ages have different needs in various using environments. What's Worse, some kids headphones with volume limited are only virtual concept (actually not featured with volume limit).
What are the best headphones for kids?
Kid-friendly headphones are more than just fun designs and affordable prices. Apart from limiting the volume to protect the children's hearing, safe headphones designed for kids should consider the various age groups and using occasions. With all this in mind, SIMOLIO offers the best choice for you, whether you prefer wired or wireless headphones.
The Simolio hearing protection kids headphones feature an exclusive 3-level volume limiter that limits the output volume of the headphones to the sound level required by toddlers (75dB), children (85dB) and adults (94dB). They provide crisp, clear sound while meeting the hearing demands of children of all ages in different occasions.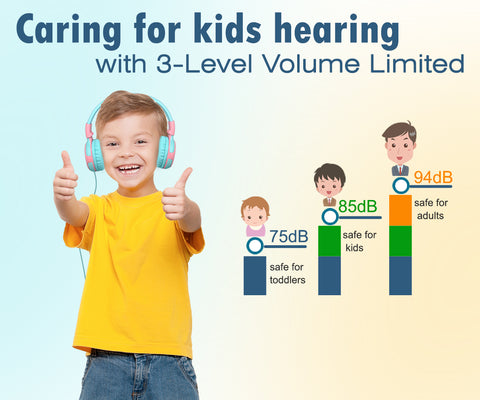 How to operate the volume limiter on Simolio kids headphones?
Slide the volume limiter switch to,
For toddlers, select the max output Vol ≤ 75dB
For kids, select the max output Vol ≤ 85dB
For adults or in noisy environments temporarily (such as airplanes and trains), select the max output Vol ≤ 94dB.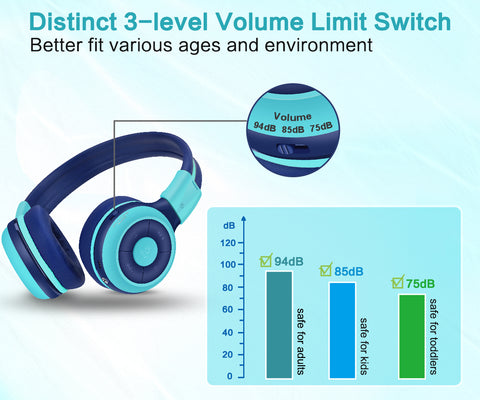 What else can you get from Simolio kids headphones?
These Simolio school headphones with volume limiting are unique not only because they have built-in protection function for overly loud sound, but they feature an impressive sound quality & a built-in MIC & a share port & an adjustable and flexible headband & soft ear pads & novelty colors.
So far, Simolio has developed two series professional kids headphones with volume limiter (wired & bluetooth) which have protected millions of children from hearing damage while giving millions parents a piece of mind (not having to constantly monitor the volume). 
Are you ready to embrace changes with SIMOLIO?? When you choose SIMOLIO, you will find everything is so different.