Superior 35 hours Battery Life : SIMOLIO Bluetooth Receiver for car
SIMOLIO Bluetooth Receiver, an popular aux Bluetooth adapter, bridges the gap between your non-Bluetooth car audio system and your phone or computer, allowing you to enjoy your favorite music while cruising down the road.
SIMOLIO Bluetooth Receiver for car can last up to 35 hours, which is mainly convenient for easing your worry about insufficient power when you drive for a long trip. The long standby time indicates that it won't suddenly drop out of the line when you make a hands-free phone call in the car. Moreover, it takes only 1.5 hours for charging fully. Not only does it charge quickly and consume power slowly, but it's small enough to take up essentially no space in the car. What a cost-effective product it is!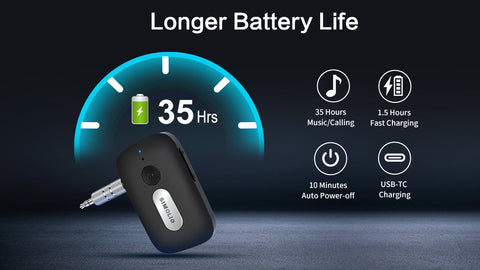 The highlight of this Bluetooth aux adapter is not only its long battery life, but also its user-friendliness. Plug it into your vehicles AUX input, make a simple pairing to your smartphone. You can play MP3 file or make phone calls completely hands-free. The adapter has the AUX output, and even comes with volume control buttons to ensure you can adjust the audio up/down. It features a "multi-function button" that allows you to switch on/off the receiver or play/pause music even accept/reject phone calls.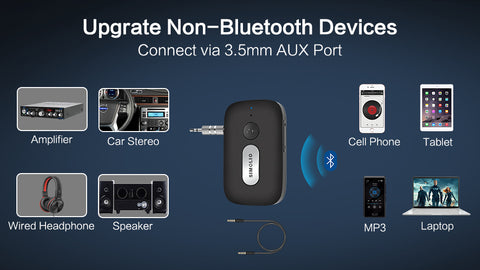 This aux Bluetooth connects to a wide range of vehicles via the 3.5mm output port. It can be connected to the non-Bluetooth-enabled car, a standard stereo system, or wired headphones. By the way, it provides dual Bluetooth connection. The receiver can be paired to 2 smartphones synchronously, which you can play the music from two sources or make/receive phone calls from both phones.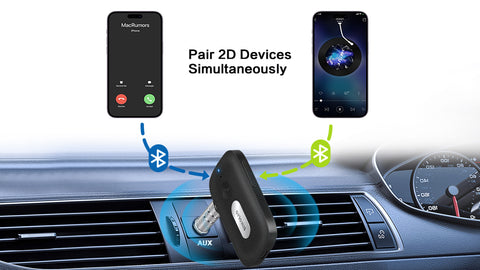 Most notably, this deal offers you a rare opportunity to purchase an in-car Bluetooth-assisted device with up to 35 hours of battery life while maintaining similar functionality and an attractive price point. Don't miss this chance - click here below to purchase the SIMOLIO 3.5mm Bluetooth adapter today!