The Best TV Headphone with Dual-Battery for Extended TV Watching
Are you tired of your TV enjoyment being interrupted at the climax of a movie due to your wireless headphones running out of power? Look no further than SIMOLIO wireless TV headphones.
With voice clarity and noise-cancelling tech, SIMOLIO headphones go beyond the ordinary to create a truly immersive TV experience. These remarkable headphones effectively diminish distracting TV background sounds, elevating the dialogue to the forefront and ensuring crystal-clear comprehension at a comfortable volume level. There are two under-chin models, SM-824D1 and SM-824D2, with the spare battery for options.
Transmitter charger 2-in-1 design for easy charging
SIMOLIO wireless under-chin series are designed with innovative transmitter charger 2-in-1. The transmitter that doubles as a charging stand makes charging easier than ever. After watching TV, simply put the earphone on the charging slot, and it will be automatically charged with red LED on. Say goodbye to the hassle of remembering to charge your headphones. Two charging slots design for two people to use together.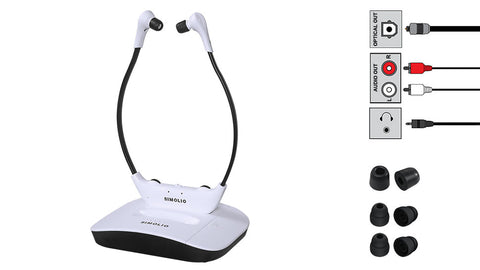 Extra battery for extended TV watching
Imagine being engrossed in a long TV marathon or getting caught up in the excitement of a gripping show, only to be interrupted by the dreaded low battery signal in your headphones. But fear not! SIMOLIO has crafted a solution specifically with you in mind: the ingenious dual batteries design.
The spare battery being charged in the transmitter is always ready to go. When the battery in the headphone runs out, what you have to do is seamlessly switch the dying battery with the fully charged one from the base to ensure an uninterrupted TV experience. And put the dying battery into base for charging again. The whole process only takes a few seconds, allowing you to swiftly resume your TV immersion without missing a single vital scene.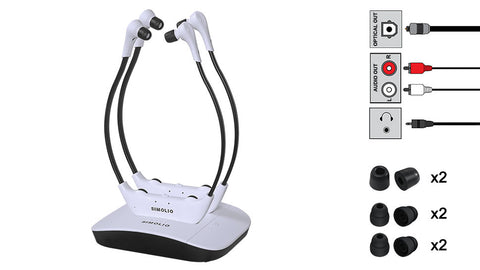 Dual Changeable batteries prolong headphone's lifetime
Furthermore, it's important to note that each lithium battery has a limited number of charging cycles. By incorporating the dual batteries design, SIMOLIO not only ensures uninterrupted TV viewing but also extends the overall lifespan of the headphones. The ability to alternate between two batteries effectively reduces the strain on each individual battery, effectively doubling the longevity of your headphones.
Additionally, we understand the importance of providing you with a seamless and convenient experience when it comes to replacing batteries for your dialogue clarity TV headphones. The replacement battery are available on our Amazon store and online store. You can experience the convenience of finding the perfect replacement battery without the hassle of searching the market.
SIMOLIO wireless TV headphones are designed with your convenience and uninterrupted entertainment in mind. Say goodbye to power interruptions and immerse yourself fully in your favorite TV shows and movies. Experience the freedom and enjoyment of wireless TV headphones with SIMOLIO.