The Best Wireless TV Speaker for Seniors and Hard of Hearing
From traditional TVs to smart TVs with built-in Bluetooth and WiFi, TV technology and design are changing constantly, TV screens become slimmer and sleeker with improved picture quality and definition, but TVs' built-in speakers have obviously lagged behind in development, with tiny and poor sound. Most people will choose to supplement the built-in TV speakers with either a surround sound system or a soundbar, but these devices usually focus on rich sound rather than sound clarity. And most of the time, the elderly or hearing-impaired people may tend to turn up the TV volume when they can't hear clearly, but a higher volume doesn't always mean they can hear the words more clearly (as background noise is enhanced too), and this can be harmful to their hearing, as well as irritate their family members and even neighbors.
Is there any way to better hear the TV without cranking up the volume? The answer is absolutely yes! You have at least two economical assistive listening device options, hearing-assisted wireless TV headphones or wireless TV speakers.
Most wireless TV headsets become uncomfortable after prolonged use, and it can be difficult for you to hear others in the room with your headphones on. Even if you use a hearing aid, you still have to remove the TV headphones and replace them with a hearing aid to hear your surroundings.
If you don't want to deal with constant pressure and ear fatigue, and want to be aware of your surroundings at all times, SIMOLIO portable wireless TV speakers can be your best choice. These TV speakers feature hearing aid technology for clear and intelligible sound. They can be used with hearing aids while watching TV. You can place them right next to you and get a much clearer sound without turning up the volume above normal listening levels.
SIMOLIO SM-621D digital wireless speaker is compatible with almost all popular TV brands (such as Samsung, LG, Vizio, Sony, Philips, Sharp, Toshiba, Hisense, Panasonic, TCL etc). It comes with a speaker receiver, a wireless transmitter (which acts as a charging base too), two power adapters (one for the base, the other for the speaker), noise-isolating stethoscope TV headset, and three audio cables (optical, RCA and AUX). 
The following key features make it a fantastic gadget that allows you to enjoy every second of your TV conversations without having to turn up the volume.
Latest 2.4GHz Digital Automatic FHSS tech promises super sound reproduction, no pairing needed, no lip-sync delay, no interruption when people pass

Voice clarity tech reduces the background sound of TV, enhances the voice of dialogue, and makes difficult-to-hear words stand out easily.

Auto signal control tech adjusts sudden increases in volume to stabilize audio output, thus preventing the user's hearing from being damaged by loud sounds.

Tone control (Treble/Normal/Bass) allows you to personalize the sound effect according to your hearing. Whether you're watching a movie or listening to music, you can achieve a quality listening experience with improved tone adjustment.
In addition to the main features mentioned above, you may also want to know:
☑ Multi-functional Speaker, Easy to Set up, Long Working Range.
Don't worry about the setup. Connection is simple. Using one of the three audio cables to hook up the transmitter base to your audio sources that have audio output jacks, such as Smart TVs, LCD TVs, OLED TVs, Plasma TVs, 4K TVs, and old tube TV etc. And then place the speaker anywhere you like and receive a clear and high clarity sound from up to 100 feet away from your TV.
The speaker's big volume knob works independently of your TV, allowing you to customize the TV volume according to your preferences.
The extra personal anti-dropping headset is a perfect idea if you like to stay up watching TV while your partner snoozes.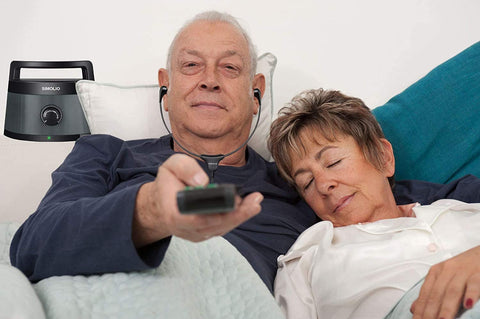 You will find a 3.5mm audio input jack on the rear of the speaker, which allows you to plug the speaker into your phone or other multimedia devices at any time using its standard 3.5mm AUX cable.
☑ Rechargeable & Portable TV Soundbar Speakers
The built-in battery is replaceable and rechargeable. When fully charged, it will deliver 6 hours of continuous playback. The receiver has a convenient handle, so you can move it to work wirelessly in any area of the room. Since you will get a separate power adapter for the speaker, you don't have to put it on the charging base every time – you can plug it into the wall outlet instead. 
Thanks to its portable design and flexible charging option, you can take it with you on vacation or business trips so you can have the sound you need without bothering anyone else in the room (or in the next room).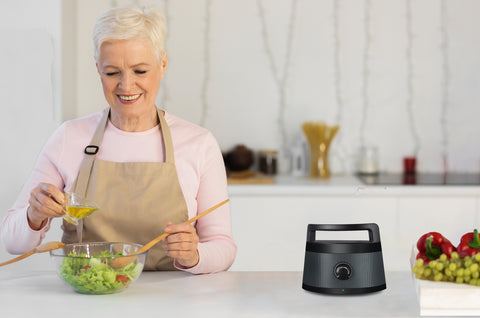 In conclusion, if you feel that you've been missing out on your favorite TV programs due to hearing loss, please don't hesitate to add the Simolio portable wireless TV sound box for hard of hearing to your TV audio to optimize your TV experience.