2022 NEW TV Earphones with voice clarity and pressure-free wearing comfort
For some people with hearing impairments, hearing aids can be a huge investment. However, many expensive hearing aids can only solve the problems of daily conversation and communication, they don't do much to help with watching TV. In contrast, some economical TV assistive listening devices (ALDs), also known as TV hearing aid headphones, can better help people with hearing difficulties hear and understand TV conversations clearly by reducing TV background noise while highlighting speech intelligibility.
The most traditional TV-assisted headphones on the market are under-the-chin style. One of the most popular products is SIMOLIO 2.4GHz wireless TV headset series. The SIMOLIO ALDs series are easy-to-use devices consisting of a wireless transmitter base in each set that connects directly with TV via TV's audio output jack and a TV headphone worn by the listener who wants to hear the signal. The integrated voice clarity feature reduces TV background noise while enhancing speech to ensure that you can get every detail of the movie. More importantly, there are some features that allow you to customize your TV audio to suit your needs. With the Tone control, you can choose between three different preset listening profiles to optimize voice or music to meet your listening needs. With Balance adjustment, you can change the left and right volume balance to improve the sound for "weaker" ears. You can even switch from stereo to mono to get more clarity on words. With these wireless TV headphones, you'll see how much fun watching TV is when you can easily follow the conversations.
The stethoscope-style TV headsets are simple and elegant in design, which are very easy to wear and apply no pressure to the head. Incorporating "memory stainless steel strips" at the ear arms, they can be arbitrarily adjusted to a more comfortable shape to better fit the user.
However, despite being equipped with ear hanger loops to reduce pressure on ears, the design hanging on the chin still gives the headset a certain "weight" that makes people with sensitive ears uncomfortable on the first try.
With these in mind, the SIMOLIO SM-828D series is newly improved on the basis of all the functional features of the under the chin series. An ergonomic neckband worn behind the neck will release the pressure hanging on the chin. Several styles and sizes of switchable ear tips are provided for perfect fit and performance. When you put your TV earphones on the Magnetic Charging Stand, it will automatically be attracted and charged. There is no need to worry about your earphones not being properly charged just because you're drowsy. Plus you'll always have a fully charged battery in the transmitter for your convenience.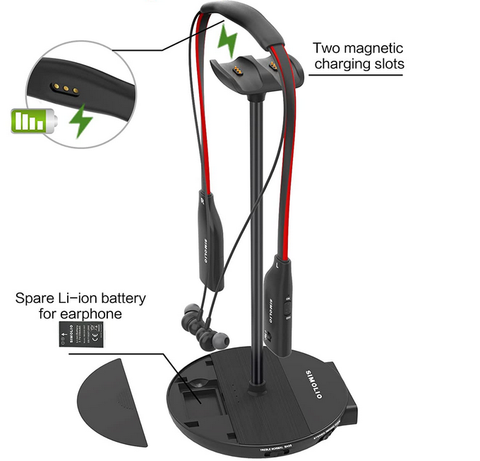 Its advanced 2.4GHz FHSS wireless technology ensures a stable connection with the transmitting station at a range of up to 33m (100 ft), so you can go to the kitchen for a drink while listening to TV programs, or listen to morning news while taking your morning walk in the yard. You don't have to worry about the signal breaking or the headphones wobbling under your chin due to your body's movement.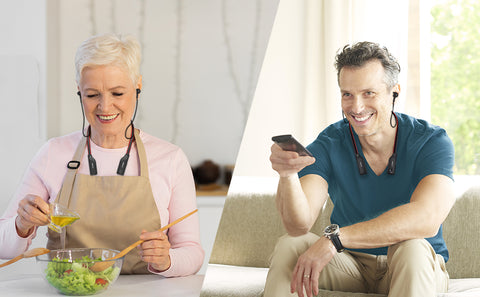 In addition to the stylish appearance & charging, which is different from the under-the-chin series, we have also specially developed the BY-PASS function for SM-828D TV wireless earphones series. This function is the best solution for families to watch TV together. For those families whose TVs have only one audio output port and are currently occupied by soundbar or AV receiver, the BY-PASS function that supports simultaneous audio transmission to wireless headphones and soundbar is undoubtedly a big plus. Just like the under the chin SM-824D series, SM-828D series also provides customers with two options: single headset VS dual headsets.

With all this said are you ready to benefit from wireless TV headphones for seniors and hard of hearing? Come on, put on your SM-828D TV listening headphones to reach a win-win situation: you'll be able to customize the sound that suits you best, others in the room can still set the TV volume as before and everyone is happy that you can watch TV together again.