How to identify the standard audio output ports on your TV - Optical/RCA/AUX?
Maybe you want to enjoy watching the late-night TV shows with your wireless TV headphones while the rest of the family sleeps, or maybe you just want to use TV headphones for a great personal listening. But before you buy headphones, you may be confused by the variety of ports on the back of the TV. Don't worry, let's take a look below and you will find a detailed guide on the TV's audio output ports.
1.What is audio output?
An audio output, also known as audio out, drives a signal (digital or analog) into another device's audio input. For example, a TV can play sound through external headphones or speakers by connecting the TV's audio output to the headphone or speaker's audio input via a cable or a wireless connection.
2. What are the types of TV audio output ports that wireless headphones are usually compatible with?
99% of wireless TV headphones on the market are compatible with either a digital audio output port or an analog audio output port, or both.

A. Digital audio output port
Digital audio output port sends digital stereo or 5.1 surround sound audio to an amplifier, home theater system, or soundbar. There are two main types of digital audio output port—optical and coaxial.
① The digital optical audio output port on the TV / TV box looks like this: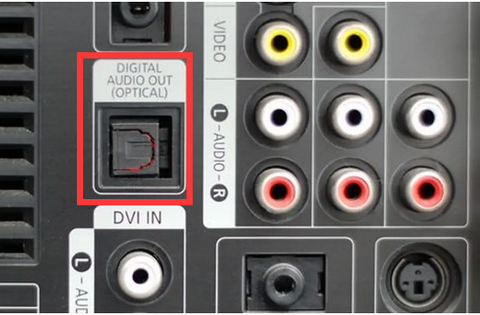 Other Names: Digital Audio Out (Optical) and TOSLINK or S/PDIF Out
This port is usually covered by a small flap and is used to send digital audio to your sound system. Because it's in digital format, it's usually clearer than RCA stereo, which uses analog.

② The coaxial audio output port on the TV / TV Box looks like this: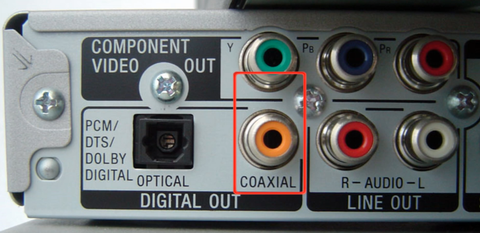 Other Names: Digital Audio Out (Coaxial) and S/PDIF Out
B. Analog audio output port
As the name implies, the analog audio output transmits an analog audio signal to an audio receiver/amplifier. Analog audio output type: RCA and 3.5mm AUX.
① RCA audio output. These red and white ports mean they can split the audio into two separate channels -- the left channel and the right channel. This enables listeners to hear more dimensions of sound, which improves the listening experience. The RCA audio output port on your TV / TV box looks like this: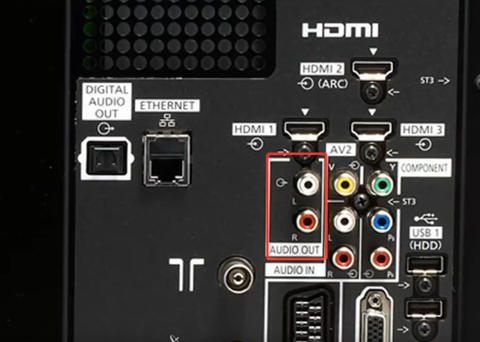 Other Names: L AUDIO OUT R, OUTPUT R-AUDIO-L, LINE OUT, AV OUT or Analog Audio Out

Other red and white RCA ports labeled as "COMPONENT IN" or "VIDEO IN" or AUDIO" are not suitable.

② 3.5mm aux audio out port, also known as the headphone jack, is a common analog audio connection. You'll be very familiar with this type of connection on many devices you own -- especially mobile devices and headphone connections on computer. The 3.5mm mini stereo jack on the TV / TV box looks like this: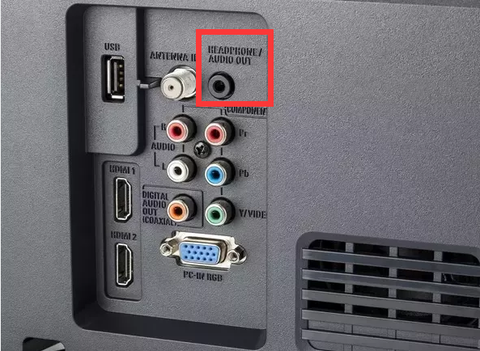 Other Names: H/P or Analog Audio Out
Hope the above instructions help you better understand your TV. If you still have some questions about how to choose TV headphones, especially hearing-aid TV listening headphones or speakers, please feel free to contact us (market@simolio.com), we will be happy to provide you with some advice and help.